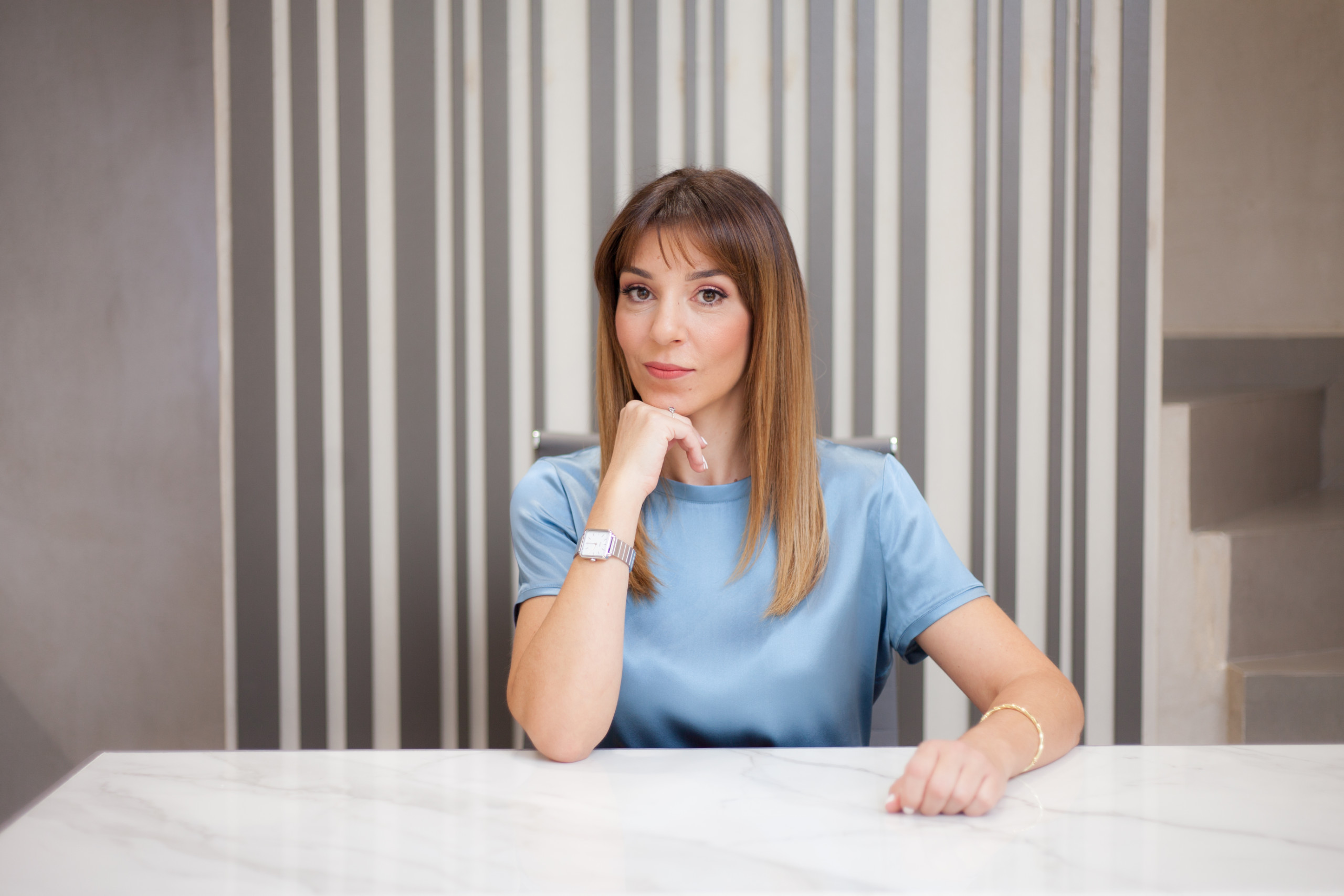 I am Elsa Dimiou Asteriadi. I would like to welcome you and wish you your stay in our site to be one of the most pleasant experiences of your day. Please allow me to share with you some information about me and my vision.
Why I did choose this specific profession
The optician-optometrist's profession is a paramedical one. At the time I had to choose a professional sector, I did it with the criteria of the offer to the fellow human beings, as well as my aptitude for the physical sciences.
My desire was to chart my professional way, combining my science with my love for aesthetics and fashion, as well as the independence of a self-employment, with which I was already familiarized, since my father used to have a jewelry shop in the center of Drama since the 60s.
How I do feel today about this choice of mine
My choice has justified me, since Optics and Optometric sciences have being advancing continuously and, also, since they are related to eyesight, which represents – for me - the most important of all the human senses.
Even though I experienced certain challenges and difficulties in my beginning, since I was only 22 years old, these first years taught me a lot of things. I acquired, quite shortly, a valuable professional experience, an economic independence and, finally, a particularly satisfying professional profile.
What is the secret of the long-term confidence showed to us by the public, not only of our city, but also of the entire country, through our e-shop
The success' secret is hidden in the moral values of our company, which my partners and I serve with loyalty, as well as in our commitment to Cosmoptical's mission to remain an innovative store with forefront technologies, non-negotiable quality, a perfectly trained staff and attentively chosen suppliers.
All the above, combined with our long experience, as well as the customers' treatment with respect, honesty and politeness, have contributed to the fact that our shop has earned the confidence of a large part of the public and that is something that not only pleases us, but it also fuels us with the necessary energy to keep walking towards this direction.
What services we do offer in our store
Our priority is the eyesight's improvement and the eyecare, in both medical and aesthetic terms. We suggest the most right and safe solutions of contact lenses, upon case, corresponding to the eyesight needs, as well as the requests of the customer's routine.
At the same time, we assist the customer in choosing the most convenient skeleton of prescription or sunglasses, between various colors, shapes and materials, for their needs' satisfaction and their personality's promotion.
In some cases, after having evaluated the eyesight, we commit the customer to an expert ophthalmologist. Concerning the eyesight correction using contact lenses, we are able to guarantee the best possible results, due to our cooperation with the most reliable and specialized brands.
Of course, we stand by your side even after the sale, taking care of your continuous support and the satisfaction of all your needs.
We are being informed continuously about our sector's advances
In such a sector, dealing with health, technology and fashion, the necessity of updating and continuous development is imperative.
Our Team's position, in terms of scientific know-how, is dynamic. In order for us to be able to align with a quickly developing environment, we participate in many specializing seminars and workshops, organized by our partners in the field of our sector's research and evolution.
Equally large is our participation in internal trainings and webinars, while we do not omit to remain consistently informed and updated about our market's trends, by intensively attending international exhibitions and congresses.
In all above ways, we remain active in the center of advances regarding our professional area and more specifically, in each particular of the sectors of fashion, technology, eye health, but also provided services' quality.
Recently we furbished our store, adopting the below-mentioned ideas and trends, concerning our renovation's design and implementation
The renovation took place in cooperation with the office of the acknowledged architect of Drama, Dimitris Vaxavanakis and the Civil Engineer Ioannis Siampos.
We implemented the modern architectural method "gallery", where the product is treated as an artwork and the store area works as an interactive breakfront. Thus, the visitor feels comfortable, while they are being integrated in the area's aesthetics and their choices promote their personal taste, something that offers them satisfaction.
The prevailing decorative options were earth shades of the single grout, as well as of the oak cushioning, in such a way to promote the products' elegance, as well as their leading role in a natural background.
Attractive digital screens were placed at the breakfront, creating a dynamic frame of the main entrance.
The renovation took place at the same time with a successful rebranding and renaming of the company to COSMOPTICAL - Eye Galaxy. Because of our e-shop's initial name «Cosmoptical», which was strongly related to our company's awareness, we proceeded in a cohesive rebranding for both our stores, physical and electronic, thus turning the page and passing to a new era.
A few years before we established our e-shop https://www.cosmoptical.gr. How we did make this decision
Our decision concerning an e-shop establishment is relative to the general strategy of innovation we follow. More specifically, since we are also technology lovers, this decision was made both as a new challenge and a natural advancement.
During the last years we realized that we have acquired a loyal public of customers, expanding out of our city's limits, consisting of both seasonal visitors and residents of the neighboring municipalities, whose we have earned the confidence.
Because of all the above-mentioned reasons and in accordance with the wealthy development we aim at for our business, as well as our desire to come before advances, our novelty at the sector of electronic services, as well, was inevitable!
It is a fact that www.cosmoptical.gr has already a constant and loyal public in all over Greece. How we did make it in such a short period
We have invested a lot of time, energy and, of course, money, in order to make it.
Indeed, initially we underestimated the challenges included in such an operation, as well as in the recognition of an e-shop of our sector. Today, we are able to conclude that people's love and enthusiasm, as they result from our site's public reviews, provide us with the strength and all the necessary energy to extend our efforts and maintain our escalating progress.
How many persons do work in our company
Cosmoptical drifts from the classical organization of a physical store. It is structured as a small and demanding company, whose operation assumes an excellent management of both the procedures and the cooperating persons.
Cosmoptical's Team consists of 8 employees, each one of which is an expert and competent person for a different sector (technical, commercial, communicative, customer service, storage management, etc.).
What we do offer more than similar e-shops
We have emphasized in the visitor's easy navigation in our site, in the simplicity of the order's accomplishment, in the 24/7 friendly support during the whole procedure and also in anything else should the client need after their order's completion.
Equally important is also the delivery speed – within 1 working day – and finally, the particularly careful packaging, as well as our package's opening ceremony. All the above contribute to a totally enjoyable purchase experience, but I will not reveal more, so as not to spoil the surprise.
Which is our favorite glasses' brand and why
From the very beginning of my carrier, beyond the famous and commercially recognized brands, I was looking for, and bringing to my store, handmade glasses' collections of independent designers and manufacturers, for my desire's satisfaction to express each person's uniqueness, through less mass and more personalized means, a trend that began abroad and now exists in Greece, as well.
The above-mentioned trend is one that I have been following for many years. For myself, I choose mainly such brands that manufacture handmade glasses of particular design and authenticity. At the same time, they use premium raw materials, for comfortable application.
Why we should not buy fake sunglasses and premade glasses of presbyopia
Our eyes are precious and unfortunately, we do not often realize how hard they work every day - sometimes under adverse conditions - and how difficult it is for them to correspond to the modern rhythm of life.
We may have been trained how to daily treat our skin, but we have not been equally trained in taking care of our eyes.
Thus, we can either meet people that, ignoring the risks, easily choose sunglasses of doubtful quality, with lenses that provide non or low protection or they may buy premade glasses of presbyopia, with lenses that have not been technically processed and they do not correspond to the accurate correction that the eyes need.
All the above hide multiple risks, such as deformations, dizziness, double vision and even the appearance of eye diseases or the deterioration of existent diseases.
How much the contemporary way of living has affected our vision?
According to recent researches, it is estimated that in 30 years, 50% of the world's population will be myopic, while it is also considered that the percentage of people with high myopia will reach 10%.
This entails an increased number of diseases related to the high myopia, which could even cause blindness.
Said results are being increased due to the contemporary way of life, the decreased exposure at the natural light and the outdoor areas, as well as the continuously increasing percentage of working at very close distances.
My advice, as an expert optician
According to my experience, I would suggest the increase of outdoors activities in natural light - but under protection - the decrease of the close distance activities' time, such as in front of screens and, whenever necessary, I suggest the eyesight correction through contemporary and effective therapies, including glasses with lenses of variable strength.
Of course, the ophthalmological check is vital.
How is the profession of the optician functioning and evaluating during the last years? What are our thoughts about the Greek market, concerning the opticians' sector and which trends do we believe that will prevail?
In the middle of an economically challenging occasion, a serious effort, affecting all the stores, is taking place by Greek opticians.
In order to manage, we have to overpass everyday ourselves and our clients' expectations, surprise them with our provisions and our products' quality! I believe that there are two dominating trends in the Greek market.
The first one is that of the very cheap optical store, selling products of low quality and the second one is that of the fine and high-quality optical store, which offers particular collections, responsible advising guidance about the products' choice and the eyes' health and also emphasizes on the purchasing experience.
I am a businesswoman, wife and mother of two young children. How I do manage my roles
The truth is that my routine is quite difficult and tiring, since my husband, being a doctor, is absent for many hours, even more than I am, due to his professional engagements.
Despite the fact that we are assisted in a satisfying degree, a strict organization and scheduling are still needed, in order for us to be able to manage a hard and complicated routine.
Even though we are stressed enough, we choose to have quality time as a family through pleasant activities with our children and that is something that we both enjoy and promote.